Join our EarlyON facilitators in the videos below in exploring literacy, numeracy and science activities. We will create, problem solve, and gain a stronger understanding of our world through play. ​
Please note: The video box below is a playlist. Click the three horizontal lines with the triangle in the top right-hand corner to view more videos. This gives you the option to select one video to watch instead of all the videos in the playlist.
---
Videos
---
---
Activities
Sorting is Fun
What do you have at home that you can sort? I wonder… could you sort those items differently?
Create Your Own Puppet Show
What do you have at home that could help you make your own puppet show? Get creative!
Kitchen Exploring
Your little one will love exploring the shiny bowls, stacking the measuring cups and drumming away with the wooden spoon!
What does your child love exploring?
A friendly reminder to sanitize the items before and after use especially if they explore by mouthing.
What textures do you have at home?
Dig out your gift bags, boxes and tissue paper! Your child will love putting items in and out, listening to the paper crinkle, touching the different textures and looking at the shiny surfaces. Hide a favourite toy inside one of the boxes for a game of peek-a-boo!
Don't have any tissue paper? That's ok, tinfoil works too, crinkle it into a ball and you have a new game!
A friendly reminder to supervise your child closely when exploring the textures if they explore by mouthing.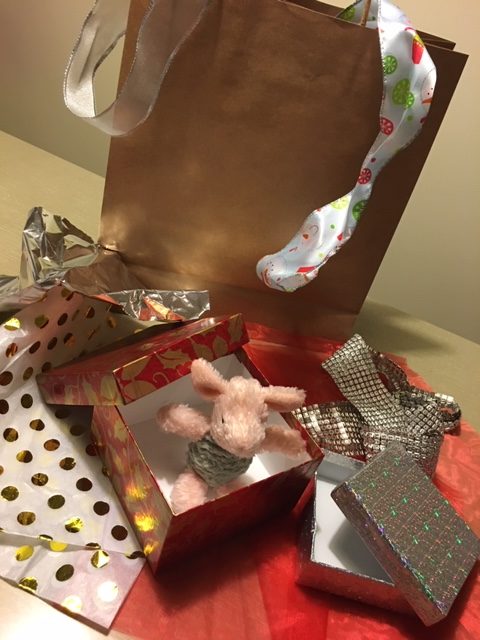 Explore with ice
We froze plastic frogs and experimented how to save them with tools such as spoons, screw drivers, warm water and salt!
We described what was happening and used problem solving skills to remove each frog.
What can you use to try a freezing experiment at home?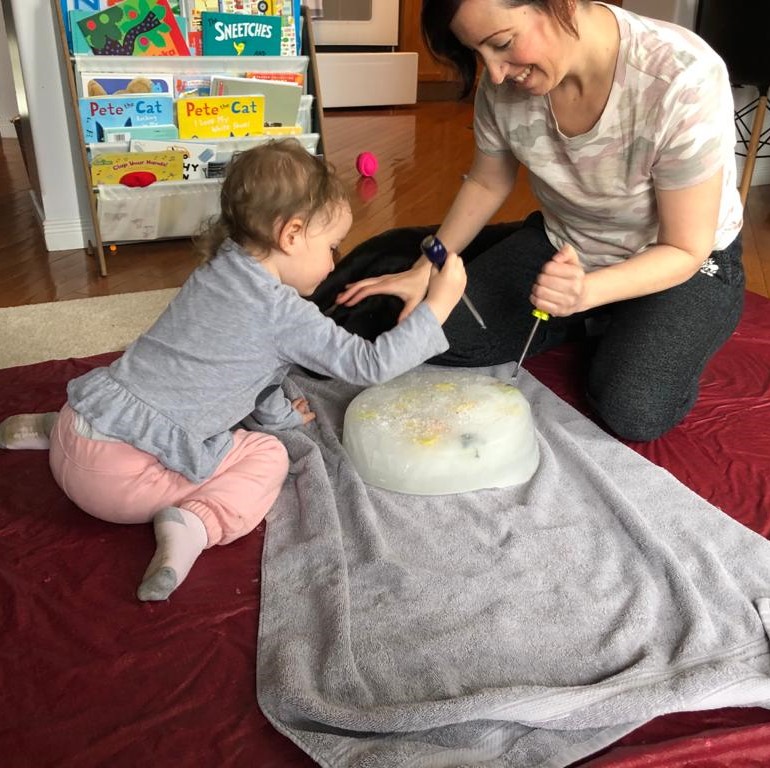 ---
Our Team's Favourite Explore With Us Activities from the Community
Things you need:
Bean seeds
Plastic cup or glass jar
Cotton balls
Water and sunshine!
Instructions:
Fill the cup with damp cotton balls
Gently place the bean seed in the cotton
Place in a sunny place, and spray or drip with water daily – do not soak
Once it sprouts, you can plant it in your garden in planting season!
Feeding the birds is a fun and easy project to work on with your children this spring! This recipe is one they can help with each step of the way. Extend the activity by providing bird books to learn as you go.
Things you need:
Empty toilet paper rolls
String/ yarn/ twine
Some sort of sticky base: peanut butter/ soy butter/ almond butter/ corn syrup
Birdseed
Butter knife/ popsicle sticks
Tray
Instructions:
Pour birdseed out on a tray
Set out your sticky base with the butter knife
Spread the sticky base all around the outside of the empty toilet paper roll – lick messy fingers
Roll the sticky toilet paper roll into the birdseed
Feed the string through the inside of the roll and tie
Pick a place to hang your feeder! By a window is best for bird watching
Enjoy watching the different birds that come to eat. Use any bird books or online resources you have available to try to identify the birds with your children!
Refill when necessary
---