Share Your Feedback on our EarlyON | Waterloo Region Virtual Programs and Services
We want to hear your feedback on the virtual programs and services currently offered by EarlyON | Waterloo Region and what you are hoping to see from us in the summer months. Share your feedback and complete this survey today!
As a result of the COVID-19 pandemic, our EarlyON Child and Family Centre locations throughout Waterloo Region are currently closed. This means that our buildings are not available to us, so we are going virtual!
Our EarlyON professionals throughout Waterloo Region continue to plan interactive activities, storytimes and music and movements for your family to enjoy! Join us @EarlyONWR each day for a new post! If you do not have social media, or would just prefer to binge-watch our amazing teams in action, at the end of each week videos and activities will be posted here for your family to enjoy together!
Live programming and registered programming is here! Please download our monthly calendar for a schedule of events. To watch our live programming videos, visit our Facebook page @EarlyONWR at the time of the event and the live video will be there to enjoy. To participate in registered programs, visit our Find a Program page to register for individual sessions or weekly series.
---
---
Questions? Email us at earlyyearsinfo@ckw.ymca.ca
We look forward to connecting with you again in person when our EarlyON Child and Family Centres re-open.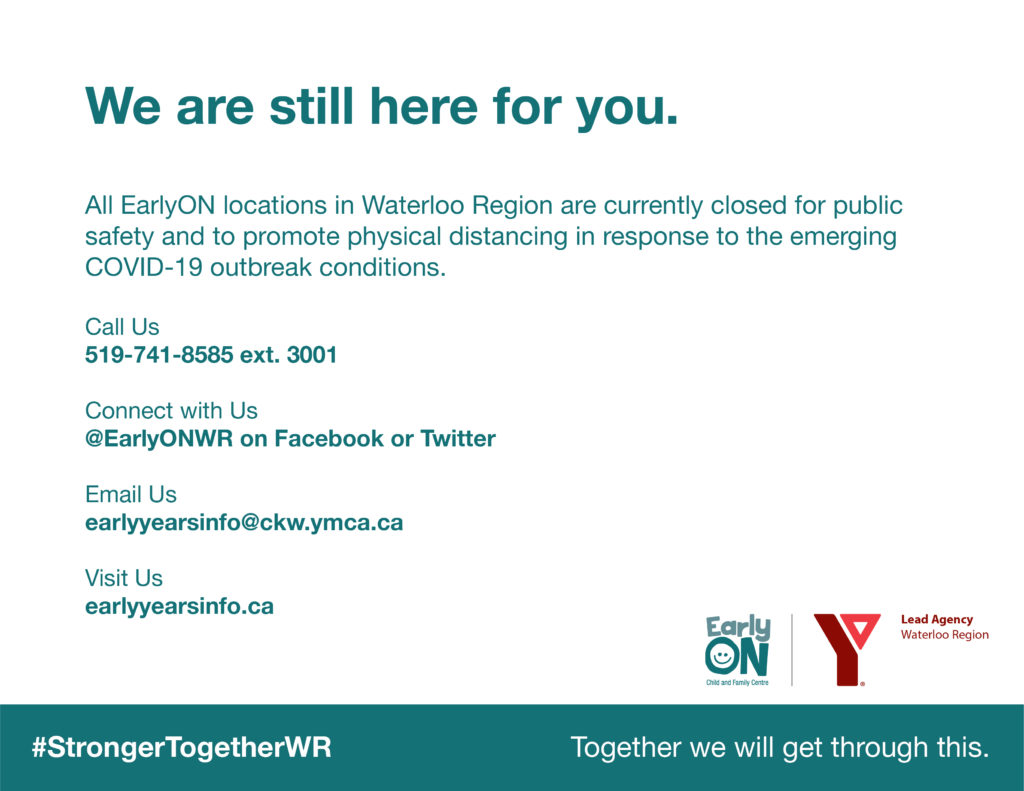 ---